Sara from
Ms. Adventures in Italy
and Shelley from
At Home in Rome
declare February 6th "World Nutella Day" - a day to celebrate, to get creative with, and most importantly, to EAT Nutella. So today is
"World Nutella Day"
. What I remember about Nutella from my childhood days is that my parents didn't want us children to eat Nutella. Maybe they thought that it is not very healty, but considering the jar saying that Nutella contains the best of half a liter of skimmed milk I wouldn't agree. ;-) So the best thing about going to our neigbours for breakfast was to have a big slice of white bread with Rama spread and Nutella on top, both things not very likely to be in the fridge at home. We begged our mum to buy Nutella for us, but she kept saying that we can only have Nutella after the first snow in winter. You must know, that there is not much snow in the part of Germany I grew up in. That's how parents are... but sometimes there was snow! ;-) Luckly, there was snow on my way to work today. That's a good omen for World Nutella Day I believe. When my boyfriend went to have a bread with Nutella last night, I got my camera ready to show you how to eat Nutella in two steps...! By the way, I love eating Nutella with a spoon directly from the jar or with curd as "Nutella Quark".
First, put Nutella on your bread.... (Note, that this is self-made rye bread with provencal herbs, but Nutella simply goes with all kinds of bread.)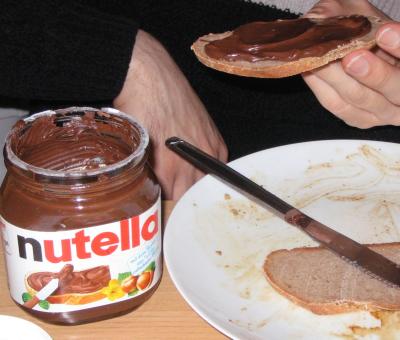 Second, just enjoy....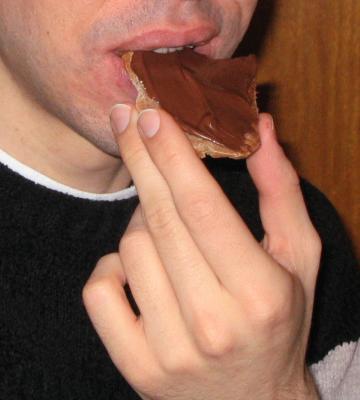 In German, you can always have a discussion whether it must be "der", "die" oder "das" Nutella. What do you think?
Kar_la - 6. Feb, 08:46